Have I mentioned how much I love Brock microscopes? I have, but I'd like to say it again: I LOVE Brock microscopes. After a day of pest control in the BCM Greenhouse, I took a microscope up to get a closer look at my adversaries. Our two most common Greenhouse pests are mealybugs and scale. Since we want our Greenhouse to be pesticide free, we use Integrated Pest Management techniques to control bugs. This means taking preventative pest action by keeping plants happy and stress-free, and manually removing bugs that take hold by wiping infested leaves down with soapy water or horticulture oils.
Mealy bugs often just look like little cottony clusters gathered on the underside of leaves and at the crotch of each leaf stem (also known as the "node"). Sometimes, I'll spot one that's big enough for me to see its 6 insect legs and antennae. But nothing beats getting a magnified look at these creepy crawlies. Their white color comes from a powdery waxy substance that they excrete for protection while they're sucking juices from the plant. Check 'em out!
Mealybugs are a type of scale insect, but while mealybugs can move, most adult scale bugs are immobile. They're like tics on leaves, attaching for life to suck sap and creating a permanent wax shell for protection. This video shows a mobile, baby scale bug searching for the perfect spot to dig in to a leaf. Many scale bugs have symbiotic relationships with ants. The ants will act as herders and carry the young scale to the most protected area of a plant and then feed on their sweet honeydew secretions. The video is magnified 10 times; I couldn't see the young scale bug with my naked eye!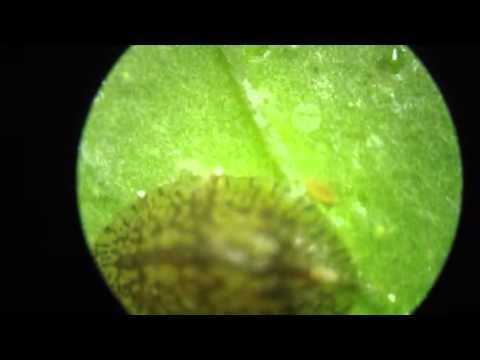 **This video was super easy to produce. I just held the lens of my iphone camera up to the top of the in-focus microscope.